Ashton Kutcher, Carrie Underwood and Kristen Bell have joined forces with the End It Movement—a coalition of the world's leading organizations in the fight for freedom—and all have lent their voices in the fight against modern day slavery.
Kutcher is the founder of Thorn, a task force comprised of tech companies fighting against the sexual exploitation of children. Earlier this week, the actor presented a powerful testimony in a recent hearing convened by the Senate Foreign Relations Committee in an effort to raise awareness. But, as previously mentioned, he's not the only famous face to use his celebrity platform to highlight an important cause…
Just yesterday, "Shine a Light on Slavery Day" engaged hundreds of thousands of people who participated in the call to action by drawing a red "X" on their hand and posting to social media.
The day prompted Underwood to take to Instagram by sharing, "Join @mfisher1212 and me and help shine a light on modern day slavery #EndItMovement @enditmovement." Fellow activist Bell also posted showcasing her red X.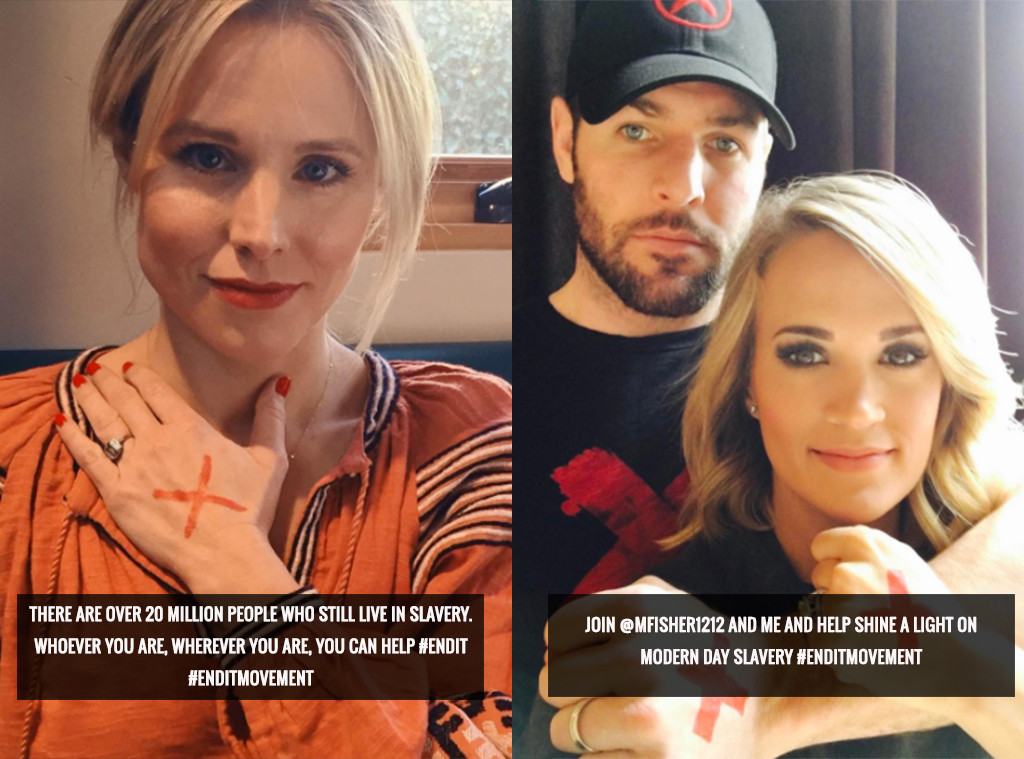 The End It Movement defines slavery as one person completely controlling another person or using violence (or the threat of violence) to maintain that control. Human trafficking, the modern-day slave trade, refers to the illegal trade of human beings through abduction, the use of threat or force, deception, fraud, or 'sale' for the purposes of sexual exploitation or forced labor.

"This grassroots viral effort has been taking the world by storm, lighting a fire among people of all ages and creating a truly impassioned social movement," Jenni Brown, END IT Movement campaign director, explained.
"Social media has been an incredible platform for amplifying this message, and continues to play a vital role in expanding our network of Freedom Fighters by connecting people from all walks of life with this issue."

Over 45 million men, women and children are currently trapped in various forms of slavery around the world, including the U.S. So here's to the many celebrities, both in the States and on a global level, who continue to fight the good fight and speak for the voiceless.
via E! News